Regenerate-RISE
*edit*
A Revitalised Centre
We opened RISE SW15 on 14 June and are slowly building up the number attending ensuring it is safe to do so.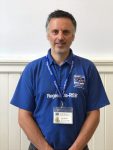 We have continued to provide Supply Bags and Lunches  from both Centres whilst open and will continue lunches until our Centre is full again.  We are limited the numbers attending due to the Covid restrictions but looking forward to expanding in the near future. For new referrals to RISE SW15 please do telephone 020 8780 9330 or complete the referral form from the Referral page.
We were delighted to have a visit from the new Mayor, Cllr Richard Field and thrilled to hear that we are the Mayor's Charity of the year.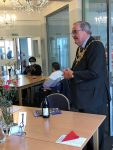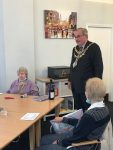 The members welcomed the Mayor to lunch and enjoyed meeting him very much indeed.
Celebrating Birthdays
Regenerate-RISE remembers everyone's birthdays and surprises the person with a cake, flowers or chocolates and staff or volunteers take an IPhone or CD player to play their favourite song and sing Happy Birthday to them.  It is good to be able to celebrate birthdays within the Centre now.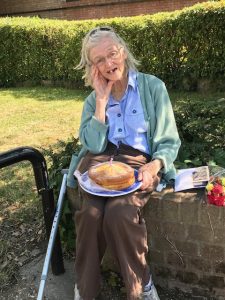 Activities at the Centre - it has been really good to try new activities and we are grateful to Caroline for doing decoupage with our clients.  We also welcome carers to attend our Centre with a client to enable them to leave their home on a regular basis.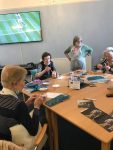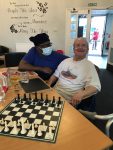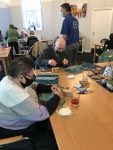 Individual Support - it is important to still give individual support to those in the community and we hope to continue to meet the need of those we have got to know well over the last year.  This will include visiting in hospital, arranging small household tasks, attending appointments and ensuring that the quality of life is improved where it is essential to do so.  We work closely with local councillors, Social Workers and the Adult Social Care Team to ensure that the best service is provided for everyone that attends.
Throughout the pandemic we have delivered 37, 250 individual supports through lunches, activity kits, supply bags, expressions of kindness, telephoning, shopping, Bingo by Phone and Savoy on the Streets (tea for two on the pavement!)  We have now ended our Supply Bags with the aim to encourage people to become independent but are continuing community lunches until we are able to invite everyone to attend the Centres.
The Platt Centre is available for hire and is ideal for Conferences, training and meetings.  We have two rooms divided by a soundproof glass partition, kitchen facilities and disabled access with all equipment provided on site, including a TV, lap top and internet facilities.  For information on the hire charges, please email Mo Smith on the Contact Page.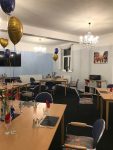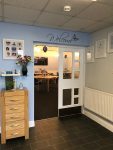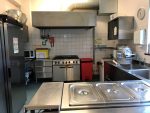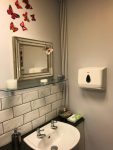 We welcome you to the Platt Mission, where you can find everything you need to make your day away a real success.  It is available during the evenings and at weekends and our Caretaker lives on site.
*edit this*
Bingo is still an activity that our clients enjoy and we are now playing "Bingo by Phone" once a week with each participant linked to a staff member or volunteer on the other end of the phone, based in the Centre.
Our Savoy on the Streets was very popular during the Summer and we enjoyed using our Santa's Sleigh to deliver all our Christmas Gifts and meals.  Unfortunately lockdown meant that we had to stop our outreach to sheltered housing with entertainment from Songs on Wheels, but we will be starting it again as soon as we can.  Our Santa's Sleigh has become our Winter Wonderland bus and as it drives round Wandsworth, we are wishing everyone a happy and healthy 2021.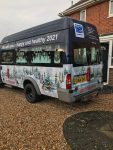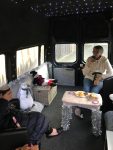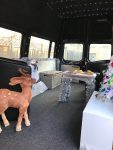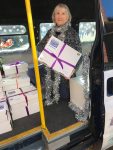 We delivered 60 Dressing Gowns from our Santa's Sleigh as Christmas gifts to the patients on three wards of St George's - Heberden, Amyand and Dalby just before Christmas.
About us and this site
© Regenerate RISE 2006-2021. Registered Charity No 1118543. Company Limited by Guarantee No 5758108.
Registered Office: The Platt Christian Centre, 22 Felsham Road, SW15 1DA. Privacy | Cookies | Website: Strikingly Simple