Welcome to Regenerate-RISE
A Vision for a Reablement Centre in the heart of SW15
We aim to provide a Centre in Putney which will provide full nursing care for older people coming out of hospital - to enable them to return home.  The Centre will provide a 10 bed unit with a range of activities, physiotherapy, friendship, occupational therapy and a host of support from our staff and volunteers.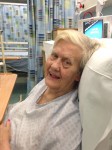 Our catchment area is South-West London and we will provide support to Kingston, St George's, Queen Mary's, Charring X and the Chelsea and Westminster Hospitals working alongside Social Services.  Regenerate-RISE works in partnership with Livability and Hillsong London and together we will make a difference to the lives of hundreds of older people.
If you would like more information on the new Centre, please do contact Mo Smith at the Platt Christian Centre, 22 Felsham Road, SW15 1DA or email us at the contact email address.
The Smarties Challenge
We are giving away Smarties Tubes in return for you asking 30 people for a £1 coin to fill your tube and we have 350 to give away.  If your school or place of work would like to see the lives of older people in our community improved, please do get in touch.
Video about the work of Regenerate Rise - click
to play