Welcome to Regenerate-RISE
The Dream Wall
Regenerate-RISE has won the national award for making a difference in older peoples lives,  from Cosyfeet.  We are going to use the award to enable many of  our clients dreams come true and look forward to exciting days ahead.
Michael Keeping lived out his dream by recently going horse riding in Claygate, Surrey.
Michael said "a wonderful experience, I've really enjoyed it and looking forward to the next one - even though my own hat wasn't up to standard and my boots were too small - I will remember today for a very long time".  This lesson was one of four and Michael is looking forward to the next one.  Michael is very grateful to the individuals who sponsored the first three lessons and also to Cosyfeet, who sponsored the fourth one.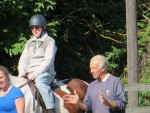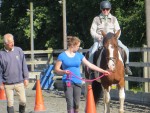 Health and Wellbeing Team in SW15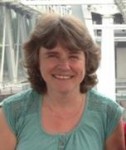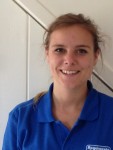 Jackie and Karen are working together to visit our clients who are in hospital, in care homes or unable to leave their home. Together they provide pastoral care to clients who are especially in need of extra care and support.  Karen is leading on the "Adopt a Granny/Granddad" scheme and we currently have 17 clients who have been adopted or who are in the process of being adopted and they are absolutely loving the experience.
Regenerate-RISE AGM
Our AGM is on Monday, 23 November 2015 and we will have refreshments at 6.30 with the AGM starting at 7.30 pm.  Everyone welcome to come and see slides of our work, hear of our achievements along with plans for the future.  It will be held at the Platt Christian Centre, 22 Felsham Road, SW15 1DA.
Video about the work of Regenerate Rise - click
to play