Welcome to Regenerate-RISE
Regenerate-RISE's mission is to eradicate isolation across the UK.  RISE is currently in West Wandsworth, Ealing, Nottingham and Sheffield and is looking forward to reaching the isolated elderly in other cities across the UK.  We provide a combination of services which include lunches, outings, activities, pastoral and practical support, outreach, hospital and home visiting.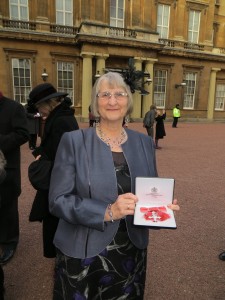 We believe in celebrating life, fulfilling dreams, forming friendships and giving older people a reason to live.
Mo Smith, Chair of Trustees received an MBE in the June Queen's Honours List and received her award from His Royal Highness the Prince of Wales on Friday, 6 December 2013.  The MBE was given for services to the community of Putney and Roehampton, London SW15.  Mo attended the Palace with her husband Ray, a Trustee of Regenerate-RISE along with her daughter and son-in-law - Debbie and Simon.  Debbie is the Founder of SHINE Again providing integrative  art therapy in the schools across SW15. Both Ray and Mo are also Trustees of SHINE Again.  Mo said "It was an absolute honour and privilege to be given an MBE and a day we will never forget".
Video about the work of Regenerate Rise - click
to play