Welcome to Regenerate-RISE
The Dream Wall
Regenerate-RISE has won the national award for making a difference in older peoples lives,  from Cosyfeet.  We are going to use the award to enable many of  our clients dreams come true and look forward to exciting days ahead.
Michael Keeping lived out his dream by recently going horse riding in Claygate, Surrey.
Michael said "a wonderful experience, I've really enjoyed it and looking forward to the next one - even though my own hat wasn't up to standard and my boots were too small - I will remember today for a very long time".  This lesson was one of four and Michael is looking forward to the next one.  Michael is very grateful to the individuals who sponsored the first three lessons and also to Cosyfeet, who sponsored the fourth one.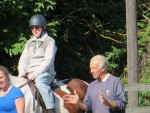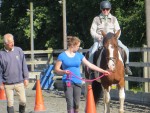 Kings and Queens 2015
Kings and Queens 2015 took place on Saturday, 22 August with 360 guests from across SW15 in a huge marquee on The Green in Danebury Avenue.  Sponsored by Wandsworth Council, the Miles Trust and the Roehampton Trust, 85 volunteers from Hillsong London served the guests with a delicious lunch and entertained during the afternoon.  The main entertainers were The Other Guys, who are one of the UK's leading tributes to Frankie Valli and the Four Seasons. 
They also enjoyed Steve Robbins, keyboard player and singer, enjoyed a game of Bingo and raised £1028 towards the new RISE Reablement Centre to be built in Putney.  The Mayor Councillor Nicola Nardelli was present and gave two awards to local residents - one was to Sister Mary Clare for her consistent visiting of the elderly in the community over many years and the other was to Kalleigh Mikkelson.  Kalleigh is one of the leaders of Hillsong Church who has tirelessly supported us in RISE and inspired many younger people to volunteer with us
....
Video about the work of Regenerate Rise - click
to play