Welcome to Regenerate-RISE
Remembrance Day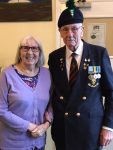 Today, on Monday 11 November 2019 we remembered all those who served during the war and returned to their families and also remembered all those who died in the conflict.  We value and appreciate every single one who gave their lives to serve our country and we honour every single one who worked tirelessly in the UK to defend our country.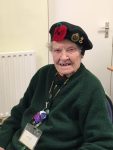 Mary is 96 years of age and if you live or work in Putney,  you may see her riding her scooter to Putney BR station to sell poppies in remembrance of all those who died or were injured during the war.  She herself was in the Land Army and we are all grateful to her for her contribution during the war.
To all our members who served during the war:  as the generation born after the war, we would like to give our heartfelt thanks for their sacrifice, their dedication and commitment for a better world - they gave us our future - and for that we are very grateful.
The Staff of Regenerate-RISE
Kings and Queens 2019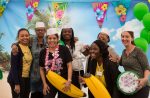 Kings and Queens 2019 was held on Saturday,7 September and was attended by 270 older people from the locality.  The theme for this year was a tropical island and it was a great success.  Thank you to all the volunteers from Hillsong and the locality for giving up your time to make the day very special.  80 volunteers helped throughout the day and the entertainment was provided by the Sunny Steel Band and Atlantis.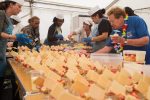 The Catering team did a brilliant job in preparing 300 lunches with the dessert being "white chocolate chip cookies with strawberries, banana and ice cream"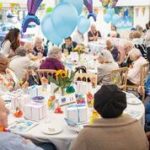 Guests enjoyed the music, the atmosphere, a game of Bingo and a raffle with the proceeds going towards the Jim McKinney Memorial Fund, which is a part of a new organisation called "Roehampton Focus" which will focus on providing support for local people and organisations.  The event was attended by the Mayor of Wandsworth, Cllr Jane Cooper and also by the late Rev Jim McKinney's wife, Cllr Sue McKinney.
Regenerate-RISE is fundraising to build a 10 bed Reablement Unit in the heart of Putney to alleviate the bed blocking crisis that currently exists across the UK in the NHS.  If you would like to donate towards this, please go to the Just Giving page on this website.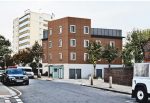 If you are a local Company and would like to sponsor the new Centre, please contact us at
sw15@regenerate-rise.co.uk
---
---
The new Rise Reablement Centre.
Click
on the panel below to play.